Meet Our Team
It is a rarity to find a group as experienced, passionate, and dedicated to their profession as the providers are that we have here, working for you, at First Coast Mohs.
We are a team of dedicated, experienced, and compassionate dermatologists and staff members, here to keep your skin as healthy as possible. "Mohs" refers to a technique that removes cancerous tissue with minimal effects to healthy tissue. To us, it's also a philosophy. No matter your need our goal is to keep your skin as healthy as possible.
Scott D. Warren, M.D.
Dr. Warren is a member of the American Academy of Dermatology, American Society of Dermatologic Surgeons, and a Fellow of the American College of Mohs Surgery.
Board certified in Dermatology and Fellowship trained, Dr. Warren is recognized as a leading specialist in Mohs Micrographic skin cancer surgery and cosmetic surgery.
He received his medical degree from The University of Florida, completing his residency in dermatology at the Medical College of Georgia and his year long fellowship training in Mohs surgery at the University of Tennessee, Memphis under world renowned Dr. Rex Amonette. Dr. Warren has completed over 35,000 cases of Mohs surgery.
With nearly unmatched credentials, Dr. Warren has privileges at local hospitals. A former All-American in football at FSU where he served as team captain, Dr. Warren was also an academic All-American and current FSU athletic Hall of Fame member. When not helping patients, Dr. Warren enjoys his family and offshore fishing.
John C. Howard, D. O.
Dr. Howard is a board-certified Dermatologist and Fellowship trained Mohs Surgeon. He received his undergraduate degree in biology from the University of Miami. He earned his medical degree from Nova Southeast University, in Ft. Lauderdale, FL and completed his residency in Dermatology at Larkin Community Hospital in South Miami, FL.
Under Dr. Eli Saleeby at the Skin Institute of South Florida, Dr. Howard completed his Mohs surgery fellowship where he performed over a thousand cases along with their advanced reconstruction. Simultaneously, he completed an ASDS Cosmetics Fellowship under Drs. Eduardo Weiss, Martin Zaiac, and Shino Bay Aguilera in South Florida where he received advanced training in numerous cosmetic procedures including skin rejuvenation, cosmetic laser technology, energy-based devices, Botox®, fillers, platelet-rich-plasma, and sclerotherapy.
Dr. Howard is a Fellow of the American Academy of Dermatology, member of the American Society for Dermatologic Surgery, and candidate for Associate status with the American College of Mohs Surgery.
Outside of the office, Dr. Howard enjoys spending time with his family, staying fit, and traveling.
William C. Hund, D.O.
Dr. Hund is a board-certified Dermatologist. He received a Bachelor's of Science degree in Biology from University of Pittsburgh. He earned his medical degree at Lake Erie College of Osteopathic Medicine's Bradenton campus and completed a one-year medicine internship at Good Samaritan Regional Medical Center in Corvallis, Oregon. He completed his dermatology residency in Miami at Larkin Community Hospital's Palm Springs Campus, where he served as chief resident. He now sees patients at our office in Fernandina Beach.
Dr. Hund is a Fellow of the American Academy of Dermatology and member of the American Society for Dermatologic Surgery.
Dr. Hund is passionate about giving back to the community and treating all dermatologic concerns. He has received extensive training in medical, surgical, and cosmetic dermatology on patients of all ages and skin types. He enjoys traveling, skiing, and spending time with his family.
Lanai K.B. Cooksey, PA-C, MPAS
Lanai began her medical career after receiving her Bachelor of Science in Exercise, and Sport Science at the University of Florida and worked in Cardiac Rehabilitation for approximately 1 year.
She then furthered her medical career by obtaining a Masters of Science in Physician Assistant Studies at South University in Savannah, Georgia.
Lanai has been practicing as a Physician Assistant since 2004 in the fields of Dermatology, Plastic Surgery, and Urgent Care Medicine. Lanai has a gentle touch and strives to provide a professional, and personal service while caring for her patients.
When Lanai is not caring for patients, she enjoys exercising, fishing, watching football, traveling, and spending time with her family.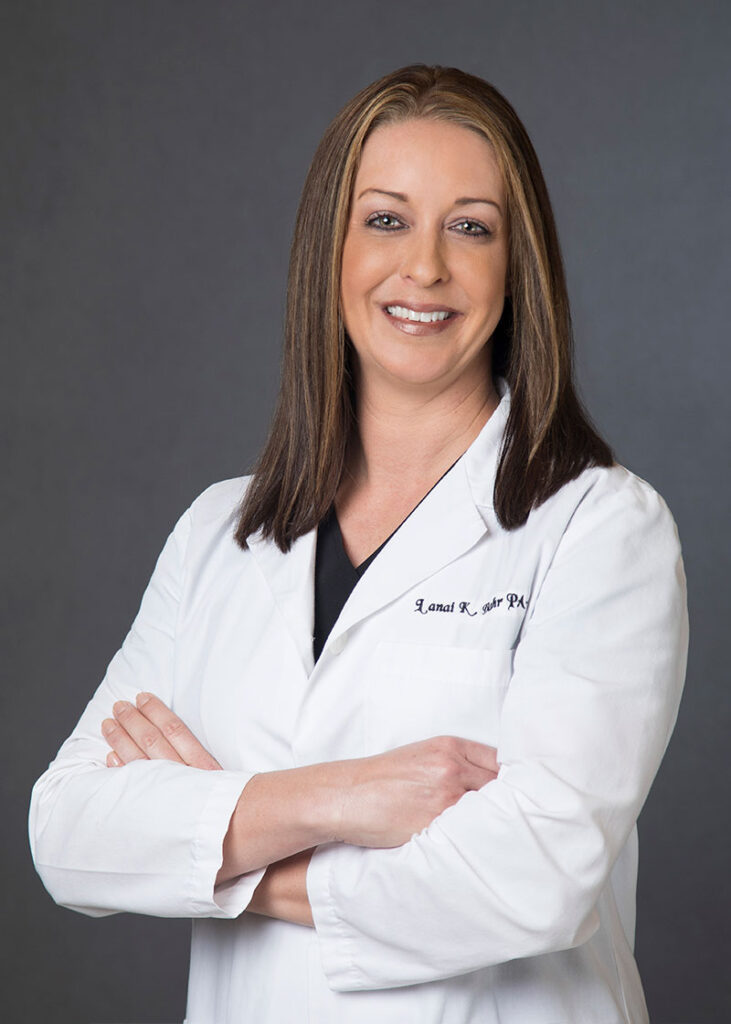 Keith Hatfield, PA-C
As a Physician Assistant with over 25 years experience, Keith has enjoyed caring for patients with a variety of dermatological needs.
Prior to joining our group at Dermatology Associates of First Coast Mohs, he was the senior PA at Dermatology Associates of Tallahassee, one of the busiest Mohs practices in the Southeastern United States.
There, he gained extensive experience in diagnosing and managing skin cancers, and performed thousands of procedures including biopsies, excisions, suturing, and closures.
Keith played an integral part educating future Mohs surgeons in the practice's fellowship program, taught pre-med students in the professional "shadow" program, kept the medical staff current on safety procedures, as well as mentoring physician assistant students.
Simona Sipos PA-C
Simona Sipos, PA-C completed her undergraduate studies at the University of North Florida and received her Master of Science in Physician Assistant Practice at Florida State University.
After completing her medical training, Simona was excited to come back to Jacksonville to provide care to the members in her community. Prior to working at First Coast Mohs, Simona practiced as a Physician Assistant in Family Medicine where she found a love for helping patients with different skin ailments. Simona enjoys developing long-lasting relationships with her patients and helping individuals feel best in their own skin. She now treats a variety of skin conditions as she performs several skin exams each day.
When Simona is not working, she enjoys traveling, spending time with family and friends, reading and going to the beach with her long-haired, adorable, dachshund.
Rachel Warren APRN
Rachel Warren is a board-certified Nurse Practitioner who specializes in medical, cosmetic, and surgical dermatology. After graduating from Florida State University, Rachel earned her Bachelor of Science in Nursing from the University of North Florida and her Masters of Science in Nursing from South University. After starting her nursing career in dermatology five years ago, Rachel decided to pursue her dreams of becoming a Nurse Practitioner.
Rachel is passionate about medical and cosmetic dermatology and enjoys the balance of both specialties. After earning her Nurse Practitioner degree, Rachel trained directly under
Dr. Warren and Dr. Howard for one year, where she acquired substantial experience and skills in evaluating and treating skin cancer, acne, and other dermatologic disorders. Her attention to detail and a keen eye for recognizing every patient's natural beauty led to her passion in caring for patients for their aesthetic needs.
Rachel enjoys getting to know each and every patient while providing compassionate, quality care. She believes in educating and involving patients in their treatment plans to achieve optimal results. In her spare time, Rachel enjoys taking her two dogs to the beach and park, traveling to new places, and spending time with her family and friends
Debbie Perez, Licensed Aesthetician
Debbie has been working as a medical assistant in dermatology since 2006. She pursued her dream of becoming an esthetician in dermatology in 2008 when she obtained the State of Florida license.
Her passion is to educate and guide her patients to achieve healthier younger looking skin with her extensive knowledge in the use of physician grade products, and non-invasive cosmetic treatments.
Debbie specializes in hyperpigmentation skin disorders, melasma, acne, rosacea, and multiple topical therapeutic corrective treatments.
As a native of Valencia, Spain she is bilingual in English/Spanish and she welcomes patients of all ages and all skin types.
Maya Lamsal, Licensed Electrologist
Maya Lamsal, CME received her Bachelor of Science in Public Health at the University of North Florida and has been working as a medical assistant in Dermatology since 2018. She began working with Dr. Scott Warren assisting with Mohs surgical procedures and transitioned to Dr. Howard's lead Medical Assistant beginning in 2020. She has assisted Dr. Howard with more than 1,000 laser procedures over the last 2 years and in March of 2022 she decided to pursue her passion of becoming a Certified Medical Electrologist. Her passion as an electrologist showed through as she graduated at the top of her class. She passed her state board exam and obtained her State of Florida license in September 2022.
When Maya is not in the office, she loves to give back to the community with a family run golf tournament each Spring, traveling with friends and family, and outdoor recreational activities.